Beauty Review - Luxury Babor Facial:
This facial is customised to your skin type and offers professional skincare with quality products, a personalised mask and regenerating and relaxing facial massage. Your face is deeply cleansed and treated. Simply fabulous!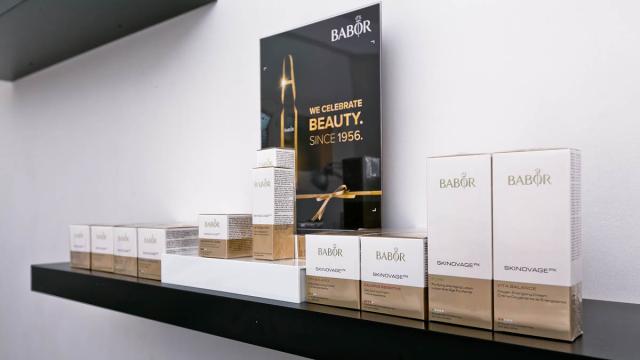 I was recently invited by Maria Van Steensel, a beauty therapist now working in Javea, to experience h er luxury facial experience from Babor skincare. Maria offers beauty treatments from the salon at Centro Terapia Fisica in Javea. For more information about the services, please visit Maria's business page here: https://www.javeaonline24.com/info/beauty-specialist-babor-javea

What is Babor? BABOR is a German skincare company which offers a range of innovative high tech skincare.

"Many of the selected active and other ingredients come from the natural world of plants, and are obtained from fair-trade sources and organically grown. Each product is a consistent symbol of "outstanding skincare made in Germany."



The Experience
My professional and lovely Babor facial therapist, Maria began the process with a one-on-one skin consultation to see what my concerns and needs were. This treatment is 100% customised to your skin type and specific needs. Maria identified that I needed to improve my skin hydration, that I had some sensitivity and blocked pores on my chin, and general signs of stress (I have two children and I work full-time!). Maria made me feel completely comfortable and at ease with the process. I could tell that she knew the brand inside and out, listing the formula and active ingredients of the products that she'd be using to tackle my personal skin needs.


The treatment is luxury from start to finish. As the mask was applied, I enjoyed a luxurious face, neck and decollete massage that made the entire experience deeply relaxing and ultra pampering. Maria also painlessly shaped my eyebrows, and waxed my upper lip.

Each part of the treatment from cleansing, toning, exfoliating and moisturising was applied with caring, expert hands. The final day and eye cream topped off the many layers of soothing treatments that were applied to perfect my pores.

I enjoyed Maria's total facial experience which lasts 80 minutes for €57.50. This includes

- Full skin diagnosis
- Cleansing of the face, next and decollete
- Stimulating mask
- Peeling
- Extraction of impurities
- Eyebrow shape
- Ampule of highly concentrated active ingredients
- Mask
- Day and eye cream
- Face, neck and decollete massage

The Effects
Afterwards, all of the areas I was concerned about had either dramatically improved or completely vanished! Maria provided some sample products which she recommended that I continued to use.
I would recommend this treatment to someone who desperately needs a skin turn-around, a major treat or as a gift for someone who is time-poor and stressed. There's no way you can feel anything other than refreshed and totally gorgeous after this. My make-up went on like a dream the next morning and it looked as though I'd had a week of excellent sleep. Thank you, Maria!

For more information about beauty treatments from Maria, please click the link to her featured page:
For more information about the services, please visit Maria's business page here: https://www.javeaonline24.com/info/beauty-specialist-babor-javea