Beauty Specialist Babor Javea | Babor Skincare Javea | Beauty Treatments Costa Blanca

Beauty Specialist Babor Javea is a beauty salon in Javea offering luxury Babor facial treatments. The salon is managed by Maria Van Steensel, a beauty therapist with over twenty year's experience in the beauty industry.

Treatments include luxury facials, waxing, eyebrow shaping, and lash and brow tinting.

Maria welcomes new clients to visit her at the salon located at Centro Terapia Fisica:
"A visit to me is all about you, time to relax, take some breathing space as you experience how rich ingredients will regenerate and restore moisture, elasticity and suppleness to your skin. You will leave the salon feeling re-energised and with a complexion looking soft and well cared for. I look forward to meeting you soon."

Click here for a review of Maria's luxury facial: https://www.javeaonline24.com/info/beauty-review-luxury-babor-facial-in-javea-spain

Call Maria today to book an appointment on: +34 681 645 895 - please mention Javea Online 24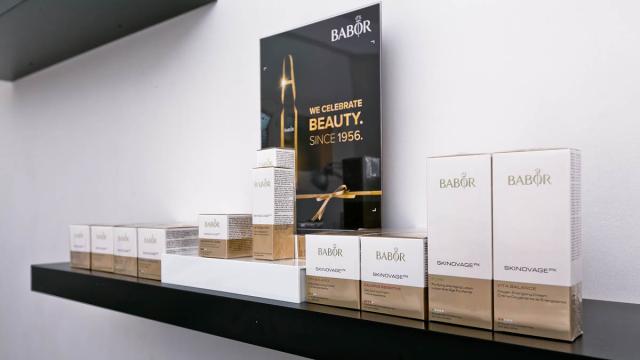 Review posted by Alice Taylor - Javea, Spain

"I had never heard of Babor products (they are from Germany),but after a little online research decided to try them. I am now a regular client and the products coupled with the skill of a really good therapist are definitely showing improvements in my skin. The facials are particularly good and the treatment room has an attractive contemporary decor with a very tranquil relaxing ambience and you can really chill out"




---
The Business

Maria is a beauty specialist from England with over twenty year's experience in the beauty industry. She has worked in salons, on cruise ships and freelance, gaining a lot of experience along the way.

Maria specialises in offering luxury facials from the high quality Babor skincare range. She also offers treatments including waxing, eyebrow shaping, and lash and brow tinting.

Beauty Specialist Babor Javea is located in Centro Terapia Fisica, close to Mercadona between the Arenal and the Old Town.


---



The Treatments


Maria specialises in offering luxury facials from the high quality Babor skincare range.

Facial treatments
Treat yourself to a wonderfully relaxing facial that will be individually tailored to suit your skins needs by an experienced Babor beauty specialist. Maria wants to ensure all clients leave the salon with skin that is beautifully in balance and has a healthy glowing complexion.

The basic facial of 50 mins costs €45, and consists of:
- Cleansing of the face, next and decollete
- Stimulating mask
- Peeling
- Extraction of impurities
- Eyebrow shape
- Ampule of highly concentrated active ingredients
- Mask
- Day and eye cream

You can also add a wonderful massage to the face, neck and decollete to make this into a total facial lasting for 80 mins (€57.50).

Other facials and treatments are available including:
- Waxing
- Eyebrow shaping
- Lash and brow tinting



---

About BABOR

BABOR is a German skincare company which offers a range of innovative high tech skincare.

"Many of the selected active and other ingredients come from the natural world of plants, and are obtained from fair-trade sources and organically grown. Each product is a consistent symbol of "outstanding skincare made in Germany."