Cap de Sant Antoni




The sea and a clean horizon of surprising beauty dominate the landscape of Xàbia. To get the best views, there are no better vantage points than the 15 tourist lookout points (Miradores) at Els Molins, Cap de Sant Antoni, Punta del Castell, Séquia de la Nòria, Cala Blanca, Caletes, Portitxol, L'Illa, La Falzia, Cap Negre, Cap de la Nau, Les Pesqueres, Ambolo, Castell de la Granadella and Granadella cove.

The Cape San Antonio is a headland between Montgó mountain and the sea. It was declared a nature reserve in 1993 and occupies an area of 110 hectares, situated opposite & to the north of the town of Javea. The marine area around the base of the cape is a marine park consisting of a number of ecologic systems. Motorised vessels are prohibited to sail in this marine park and you need permission to dive here.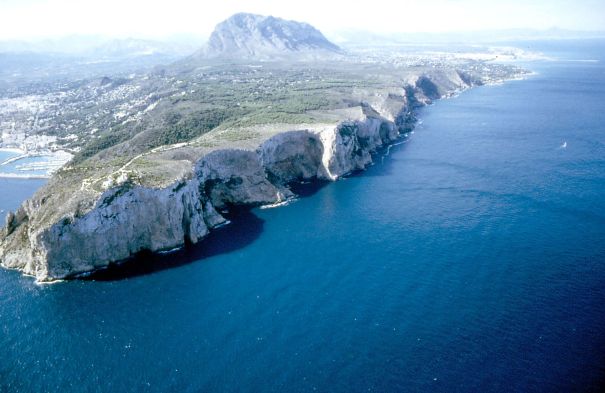 The viewpoint is easily one of the most stunning panoramic landscapes of the Valencian Coast. There are two plant microreserves here; on its north cliff face and in l´Illot de la Mona at the foot of the Cape. On the lateral sides of the plains 'Les Planes', one can still see the remains of narrow terraced areas of land which were used for the cultivation of vines. The headland offers a number of signposted walking/hiking paths and you should visit the old windmills 'Els Molins', used until the 19th century, that are currently being renovated. The south west wind, known as Llebeig, was the reason why in the XIV century the first of the windmills was constructed and which is still standing today. From the XIV to the XVIII century, ten of these cylindrical windmills were constructed for grinding wheat and other cereals. One of the hiking trails will lead you down to the Cova Tallada, which can also be reached by boat or by car followed with a short easy walk. There is also a hiking trail leading you all the way down to Javea's port.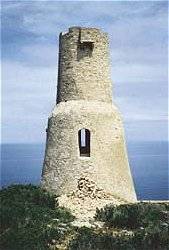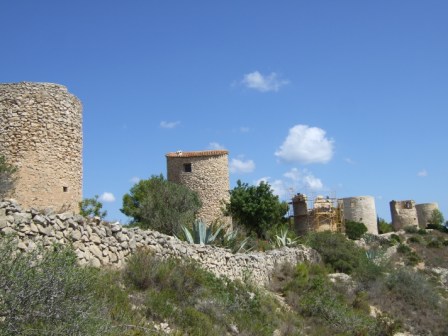 The watchtower near the Cova Tallada (left) and Els Molins (right).

The lighthouse (in use since 1855) sits on top of the cape, along with a beautiful viewpoint from which you can see the northern town of Denia and the Gulf of Valencia, and the south bay of Jávea. Its cliffs have heights of up to 175 m. The lighthouse is made up of older defensive structures that took advantage of the privileged location. The hermits built it to isolate themselves from worldly life and thus in their honour, the Sanctuary, "Ermita de San Antonio" was built in the 14th Century, which also became the name of its rugged geographic feature. Its land was also occupied by a watchtower erected to defend themselves from the pirate raids; these buildings subsequently became the current lighthouse.